FORD TRI-MOTOR "City of Port Clinton"
The Liberty Aviation Museum in Port Clinton, Ohio has acquired a flyable model 5-AT-B Ford Tri-Motor, historically known as the "City of Wichita", Serial #5-AT-8, Registration #N9645, from the Evergreen Aviation and Space Museum located in McMinnville, Oregon.
"The acquisition of this aircraft fulfills one of our long range plans for the Liberty Aviation Museum, to have two Ford Tri-Motors at the museum," said Ed Patrick, CEO of the Museum. "Our ultimate goal is to always have one of the Fords permanently based at Port Clinton, while the second aircraft is on tour throughout the country."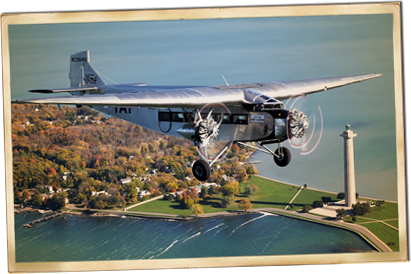 The new aircraft will be home-based in Port Clinton, though the Museum's intent is to lease the aircraft to the Experimental Aircraft Association (EAA) so that it can tour the United States. "In this way thousands of people nationwide can be given the rare opportunity to get a ride in a very unique, rare and historically significant aircraft. While on tour nationwide the aircraft will also serve as a goodwill ambassador for the Liberty Aviation Museum and for Port Clinton," said Patrick.
This Tri-Motor will also enhance and support the efforts of the Tri-Motor Heritage Foundation in completing the restoration of Island Airlines Ford Tri-Motor Model 5-AT-40, Serial #13, Registration #N9667. Members of Port Clinton's EAA Chapter #1247, who have been working on restoring #N9667 for the past 10 years, and who estimate they have a few more years of work before it can fly, are equally excited about having an operational Tri-Motor as an inspiration. "The arrival of this aircraft is an important step towards the goal of making Port Clinton synonymous with the history of the Ford Tri-Motors," states Jody Brausch, President of the Tri-Motor Heritage Foundation.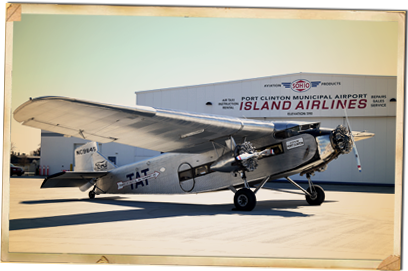 This aircraft comes back to Ohio where it made aviation history. The first transcontinental air and rail service began in Columbus, Ohio, on July 8, 1929. Famed aviator Amelia Earhart and twenty others boarded two state-of-the-art Ford Tri-Motors and began the first leg of the cross country air journey that ended in Glendale, California. The Transcontinental Air Transport (TAT, that later become TWA) made coast to coast travel in 48 hours possible. "The significance of this aircraft to commercial aviation and airline history is no different than that of the Memphis Belle to B-17s, or the Enola Gay to B-29s from WWII," points out Jeff Sondles, Operations Director of the Liberty Aviation Museum.
The City of Wichita has checked out all its test flights, and this holiday weekend is winging its way to Port Clinton. "This coming Tuesday, July 8th, 2014, marks the 85th anniversary of that first transcontinental flight from Columbus, Ohio. How fitting it is that now is the time this historic aircraft comes to its new home in Ohio," adds museum volunteer H. Harvey Lembeck.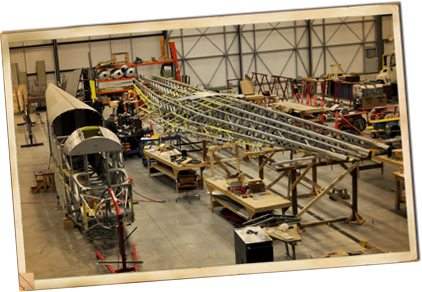 TRI-MOTOR HERITAGE FOUNDATION Restoration Project
The Tri-Motor Heritage Foundation is currently restoring to flying condition a Ford Tri-Motor in the hangar of the Liberty Aviation Museum. During public museum hours, visitors may get a glimpse of this project as it progresses. The museum also displays many artifacts, photos and models related to this historic plane. For more information go to: TRI-MOTOR HERITAGE FOUNDATION.
The Tri-Motor has a long history in the area. Island Airlines, operated from the Port Clinton Airport and served the islands of Lake Erie as "The World's Shortest Airline." Residents and visitors of the island depended on the airline for mail, supplies, transportation, ambulance and many other services. The "Tin Goose" flew the island route for almost 50 years, from the 1930's until the 1980's.
Tri-Motor Specs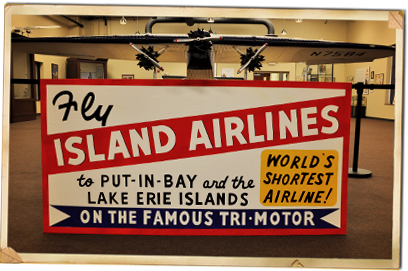 Year
1929
Model
5-AT-B
Serial No.
NC-9684
Gross Weight
13,500 lbs.
Empty Weight
7,500 lbs.
Useful Load
6,000 lbs.
Wing Span
77' - 10"
Length (Overall)
49' - 1"
Height
13' - 8"
Passenger Seats
13 - 15
Top Speed
135 mph
Cruise Speed
115 mph
Stall Speed
64 mph
Service Ceilng
17,000 ft.
Absolute Ceiling
18,500 ft.
Rate of Climb
950 fpm
Glide Ratio
8.7 to 1
Fuel (Standard Tanks)
277 gallons
Fuel (Long Range Tanks)
355 gallons
Oil
34 gallons
Powerplant
Pratt & Whitney Wasp
(430 hp each)
B-25J MITCHELL BOMBER - "Georgie's Gal"
"Georgie's Gal" started her life at a manufacturing plant in Kansas City, being accepted into service in 1945. She has been bought and sold numerous times since being decommissioned and entering civilian service, and has previously borne the names "The Devil Made Me Do It," "Man Of War," and "Martha Jean."
Liberty Aviation Museum purchased the plane in 2011, and from winter 2011 through spring 2012, she went through an extensive mechanical and cosmetic restoration.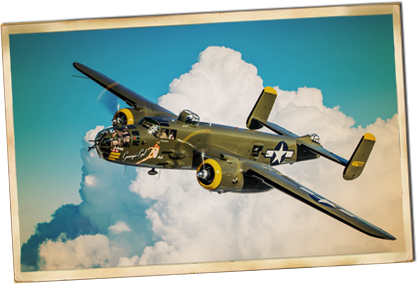 Specifications
Length
53 ft. 5 in.
Wingspan
67 ft. 6 in.
Height
16 ft. 4 in.
Wing Area
610 sq. ft.
Empty Weight
21,120 lbs
Loaded Weight
33,400 lbs
Crew
6
Performance
Power Plant
2 Wright R-2600-29
Cyclone Radials (1,700 hp each)
Combat Radius
1,350 miles
Max. Speed
293 mph at 13,850 ft.
Ceiling
24,500 ft.
Armament
Guns
13 x .50 in. (12.7mm) machine guns
Bombs
3,000 lbs.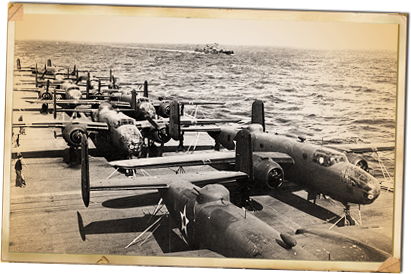 The North American B-25 Mitchell was an American twin-engined medium bomber manufactured by North American Aviation. It was used by many Allied air forces, in every theater of World War II, although the majority of B-25s in American service were used in the Pacific. The B-25 was named in honor of General Billy Mitchell, a pioneer of U.S. military aviation. By the end of its production, nearly 10,000 B-25s in numerous models had been built. The B-25 first gained fame as the bomber used in the 18 April 1942 Doolittle Raid, in which 16 B-25Bs led by Lieutenant Colonel Jimmy Doolittle attacked mainland Japan, four months after the bombing of Pearl Harbor. Our B-25 Mitchell is named "Georgie's Gal" after the museum's benefactor, George V. Woodling.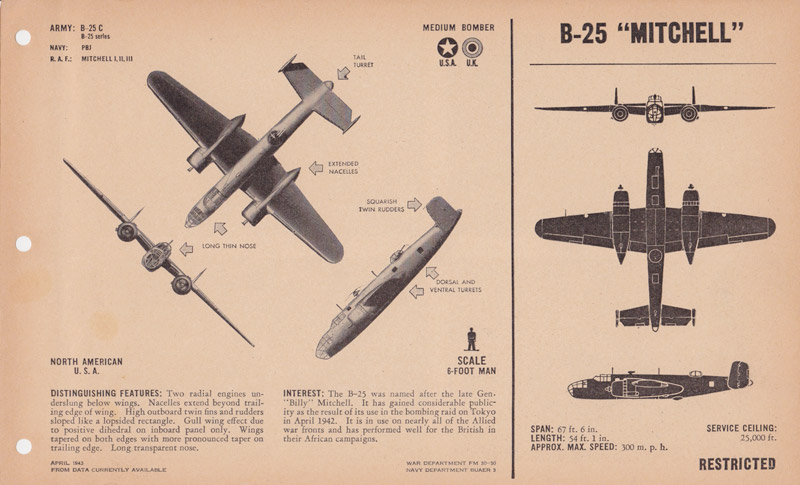 B-25C Data Sheet
Lake Erie Warbirds' TBM AVENGER
This aircraft has been restored by Charlie Cartledge and a team of volunteers at Wadsworth, Ohio. It is operated by Lake Erie Warbirds, and is available for for public fly-by, formation, static display and PR events. If you're interested in booking, please calling 330.607.7697 or by email at lakeeriewarbirds@gmail.com. Please visit: www.lakeeriewarbirds.com or email lakeeriewarbirds@gmail.com for more information.
This aircraft is a World War II vintage torpedo bomber. The type was designed by the Grumman Aircraft Engineering Corporation of Bethpage, New York, and designated TBF (Torpedo Bomber, Grumman.) Eastern Aircraft Division, General Motors Corporation was brought in by the U.S. Navy just six weeks after Pearl Harbor, as a second contractor to builld the now appropriately named Avenger, re-designated TBM (Torpedo Bomber, General Motors.)
The TBF/TBM Avenger was crewed by a pilot, turret gunner, and radioman/bombardier. The prototype made its maiden flight on August 1, 1941 and TBFs saw combat with Torpedo Squadron 8 (VT-8) during the Battle of Midway on June 4, 1942. Former President George H. W. Bush was an Avenger pilot with VT-51 on the aircraft carrier USS San Jacinto. On September 2, 1944, Bush was shot down near Chichi-jima Island, near Japan, and safely parachuted into the Pacific Ocean where he was later rescued by the USN submarine USS Finback. Neither his turret gunner nor radioman survived.
This particular plane is a General Motors TBM-3E Avenger, Bureau Number 91436, built by Eastern Aircraft in Trenton, New Jersey. It was accepted by the U.S. Navy n August 3, 1945, and did not fly combat missions during WWII. Postwar, it was based at Atlanta, San Diego, and Seattle, then retired after 600 hours total time. Later stored at Litchfield Park, Arizona, it was stricken from the Navy on May 31, 1956.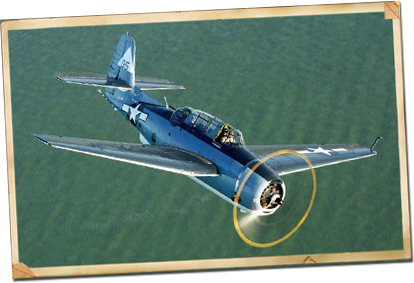 91436 was sold by the USN at Naval Air Station North Island, San Diego, California, to the Selk Company of North Hollywood for $2,600 on January 25, 1957, and assigned the civil registration N9569Z. Subsequent owners included Aerial Services of Chino, California, Zack Monroe of Lancaster, California, and Cisco Aircraft Inc., also of of Lancaster. Cisco fitted the aircraft with tanks for aerial spraying or fire fighting. In 1963, N9569Z was acquired by Desert Aviation Services of Phoenix, Arizona, who is believed to have operated it for a couple of seasons.
Sometime during the 1960s, the outer wing panels were removed and the aircraft was towed to downtown Phoenix, where it was operated by Desert Aviation Service for the Buehner Window Company as a wind machine for product testing. Desert Aviation Service became Aircraft Specialties, Inc. who continued to operate the wind machine for Buehner until the mid 1970s when the plane was towed to Falcon Field in Mesa, Arizona, for storage and to use as a spare parts source. Aircraft Specialties became Globe Air, Inc. in 1980. This aircraft was sold at the auction of Globe Air assets that was held on October 23, 1985 at Falcon Field. Subsequently, N9569Z was trucked to Tom Reilly Vintage Aircraft in Kissimmee, Florida, where restoration to flying condition started.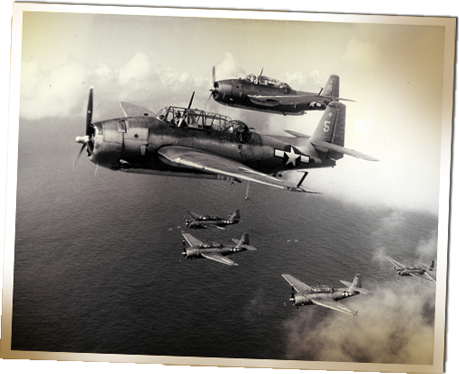 Specifications
Engine
1900 hp R-2600 14
cylinder radial engine
Weight
10,500 lbs. empty
17,895 lbs. maximum take off
Wing Span
54 ft.
Length
40 ft. 5 in.
Height
15 ft. 5 in.
Crew
3
Performance
Maximum Speed
276 mph at 16,500 ft.
Climb Rate
2,060 fpm
Ceiling
30,100 ft.
Range
1,000 miles
Armament
Guns
2x 50 caliber forward firing machine guns
1x 50 caliber turret gun
Bombs
Up to 2,000 lbs. of bombs in bomb bay
Wing Mounted rockets/drop-tanks/radar pod, etc.
Number Built
9836 (7546 by General Motor)
Airworthy Examples: 42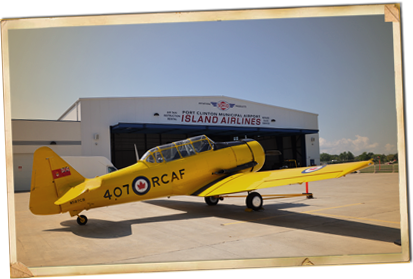 Lake Erie Warbirds' HARVARD IV
Designed by North American Aviation, this is one of the last AT6 series produced. ("AT designates "Advanced Trainer.")
This plane is operated by Lake Erie Warbirds and is available for public fly-by, formation, static display and PR events. Contact Lake Erie Warbirds for details at: lakeeriewarbirds@gmail.com
This particular aircraft was produced under license by Canadian Car & Foundry for the RCAF (Royal Canadian Air Force.) After WWII the aircraft was in used by the Italian Air Force until retired in the 1970s.
In 1987 the aircraft was purchased by Charlie & Doug Cartledge and completely restored to its original WWII RCAF configuration. Over 5000 man hours went into the rebuild.
| | |
| --- | --- |
| Powerplant | Pratt & Whitney R-1340 radial engine (600hp) |
| Cruise Speed | 150 mph |
| Max. Speed | 208 mph at 5,000 ft |
| Range | 730 miles |
| Wingspan | 42 ft. |
| Length | 29 ft. |
| Weight | 4, 158 lbs |
| | |
| Variants | USAF: AT-6 Texan |
| | US Navy: SNJ4 (equipped with tail hook) |
| | RCAF & RAF: Harvard |
| | Australia: Wirraway |
STEARMAN (Model 75) - "Harold's Dream"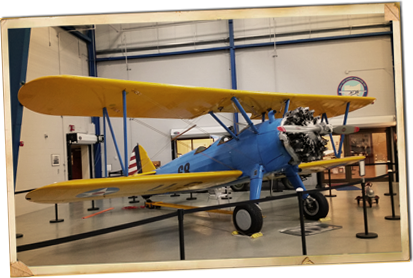 Please welcome our newest addition to the Liberty Aviation Museum. Our Boeing PT-17 Stearman comes to us with a precious pedigree. The plane was previously owned by the late Jim Drakage, a long time supporter and friend of the Liberty Aviation Museum.
The Model 75, frequently referred to the Stearman or Kaydet was produced by the Boing corportation at it's Wichita, Kansas, Stearman manufacturing facility. They were used as trainers by the US Army Air Forces, US Navy, and Royal Canadian Air Force during WWII. After the war, many were sold to the public and found civilian use as crop dusters, sport and performance planes. On March 4th, The Liberty Aviation Museum officially named their WWII Stearman PT-17 "Harold's Dream" in honor of the late local Tuskegee Airman, Lt. Col. Ret. Harold H. Brown.
| | |
| --- | --- |
| Specifications | |
| Crew | 2 |
| Length | 24 ft. 9 in. |
| Wingspan | 32 ft. 2 in. |
| Height | 9 ft. 8 in. |
| Wing area | 298 sq. ft. |
| Empty Weight | 1,931 lbs. |
| Max. Takeoff Weight | 2,635 lbs. |
| Powerplant | Continental R-670-5 seven-cylinder air-cooled radial engine (220 hp) |
| | |
| Performance | |
| Maximum Speed | 135 mph |
| Cruise Speed | 96 mph |
| Service Ceiling | 13,200 ft |
#97 Denight Special DDT Pylon Racer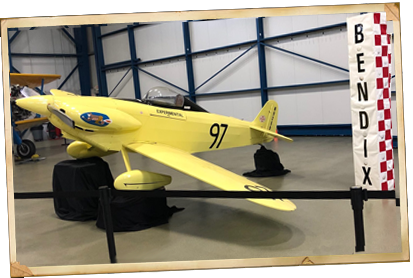 This airplane was designed by Nick D' Apuzzo as a midget class pylon racer, and subsequently built by former owner and pilot, William "Bart" Denight. Dubbed "The Denight Special DDT" #97, the racer made its debut appearance at the 1949 Cleveland National Air Races. DDT #97 qualified at 189.7 mph and took second place in the second heat in the Goodyear-Continental Midget Pylon Race.
It was later renamed "Miss Dallas" and flown at the National Air Races in Reno, Nevada in 1967. It also raced in Detroit, Miami, Greensville, Dansville and Westchester, N.Y., and Reading, PA.
The aircraft was restored by Ed Fisher of Lexington, S.C. for the Society of Air Racing Historians, and ownership was transferred to the Cook Cleland Airport Corporation in Texas for display. The Society reacquired the airplane and #97 was donated to the Liberty Aviation Museum in 2017.
| | |
| --- | --- |
| Specifications | |
| Overall Length | 17.9 ft. |
| Wingspan | 18.8 ft. |
| Wheel Base | 56 in. |
| Construction | Steel Tubing w/ Fabric Covering |
| Powerplant | Dummy Engine, Originally: Modified Continental C-75 |
| | |
| Performance | |
| Top Speed | 189.7 mph |
NOTE: Visiting Aircraft and Events
The Liberty Aviation Museum is a working museum, with flying aircraft. The actual aircraft present at the museum at any given time can vary depending upon air show touring schedules, visiting aircraft from other museums & private collections, special events, and other factors.