Visitor Information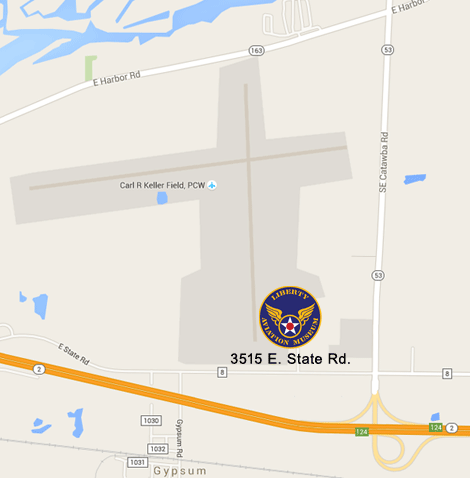 Location
Liberty Aviation Museum
3515 E State Road
Port Clinton, OH 43452
(419) 732-0234
Current Hours & Closures
Liberty Aviation Museum
& PX Gift Shop Hours

Temporarily Closed
until March 31st

Appointments can be made to
visit us by calling 419-732-0234,
ext 204 or emailing us

Tin Goose Diner Hours
Reopening Spring 2023



To schedule your group tour, please call (419)732-0234 or email us at events@libertyaviationmuseum.org

Please e-mail the museum at marketing@libertyaviationmuseum.org or call 419-732-0234 with any questions. To keep up-to-date, please follow us on Twitter and Facebook for the most current information.
Admissions

$12.00 standard adult admission
$8.00 for children 6 & up.
Children 5 & under admitted free.
$2.00 discount off of admission for seniors 65+, veterans and active military, adult AAA members.**
$1.00 discount off of admission for children of AAA members.**

** Must present valid card.

Safety Rules
We want to ensure that your visit is a safe and enjoyable one. Please be mindful of the following SAFETY RULES.
The museum is a working museum with functional aircraft, vehicles, and other interactive displays. In order to prevent injuries to visitors or damage to our collection, please:
Do not touch, sit, or stand on any museum aircraft, vehicles, or displays.
Keep children under close supervision at all times.
Do not step or reach inside cordoned off areas.
When aircraft or vehicles are operating or in motion, please stand clear and follow the instructions of museum staff.
Be mindful of burn hazards due to hot surfaces such as engines and exhausts on aircraft and vehicles.
Museum Guide
PLEASE NOTE: As a working museum, Liberty Aviation Museum aircraft, vehicles, and historical artifects are continuously undergoing restoration and maintenance, and occasionally attending off-site events. As the museum expands, new items will be added, and visiting aircraft and vehicles may be temporarily on public display.
We hope the Museum Guide, below, and accompanying photos, help illustrate what the museum has to offer. However, they may not be representative of the exact exhibit on any given day. If you are planning a visit to see a specific aircraft or vehicle, feel free to call the museum at (419) 732-0234 to verify that it will be present at that time.