NEWS FROM THE FRONT
Note: Our B-25 "Georgie's Gal" will be away from the museum until the Spring of 2015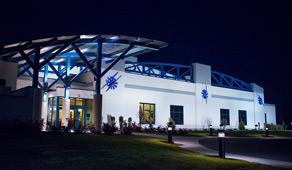 Private Event Weekend
March 27-29
The Liberty Aviation Museum will be CLOSED to the public Friday, March 27 through Sunday, March 29, for a private event. The museum will re-open on Monday, March 30, at 10am
The Tin Goose Diner and the museum Gift Shop will be OPEN for normal winter business hours all weekend.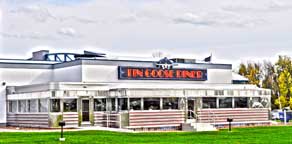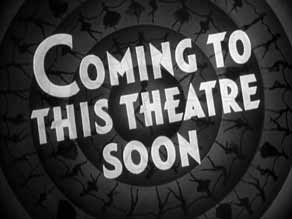 Movies showing on select Saturday evenings beginning at 6:00 pm through March.
Guests who attend will enjoy FREE Museum admission, and will be able to take in a movie* or two shown on our Drive-in style Hangar big screen while seated among our vintage aircraft and vehicles. The Tin Goose Diner will have an assortment of food, drinks and snacks available for sale all evening long. The Tin Goose Diner will be open until 8pm. (Special hours are only for Movie Nights only.
*(Movies shown are in the public domain, or approved for public viewing)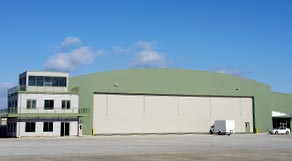 Museum Expansion - New Hangar
Construction continues on the museum's first expansion.
Check out our Museum Expansion Page to find out how you can help, and for more photos and information. Be sure to follow us on Facebook and/or Twitter to see continuing updates.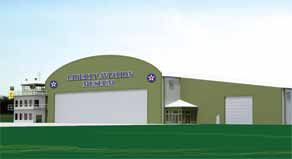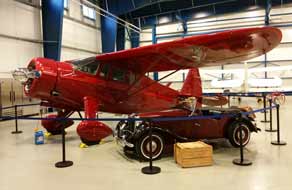 Visiting Aircraft
Georgie's Gal may be away for the winter, but stop by and see some of the visiting historic aircraft in the museum hangar!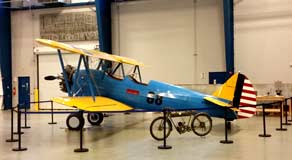 When visiting the museum, be sure to dine at this fully restored, vintage 1950's Tin Goose Diner. All proceeds from this diner help fund the operation of the Liberty Aviation Museum.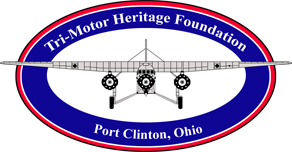 The Liberty Aviation Museum is also home to the Tri-Motor Heritage Foundation's restoration project.